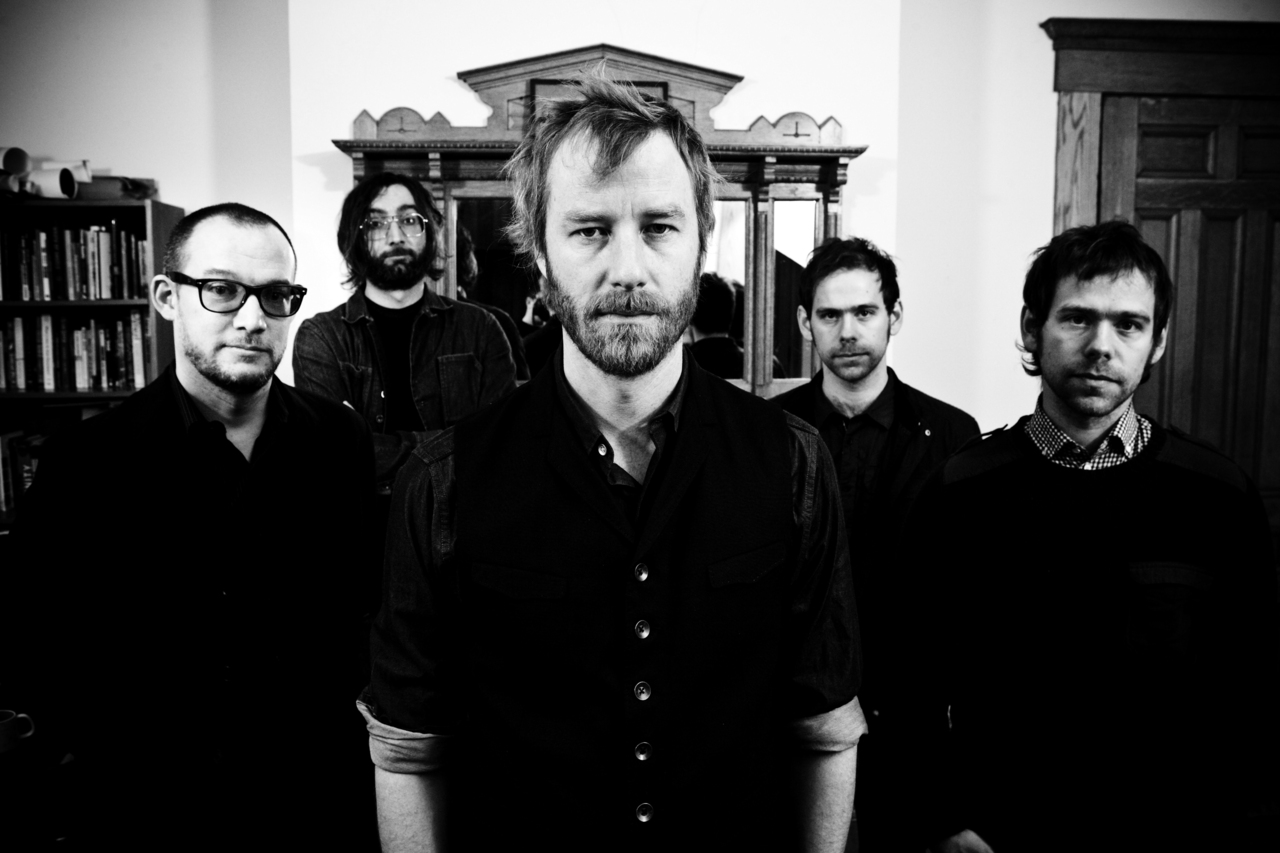 HEADS UP: Unfortunately I had to leave after the band played "Fake Empire" and so didn't get to catch the encore, hence why it isn't covered here. Sorry.
In the couple of weeks leading up to Ohio band The National's super-sized show at the O2 Arena in London, everyone who I'd told about it met me with the same reaction; "sorry, who? Nah, never heard of them". It's odd enough that any band playing a headline show at the O2 should be met with such indifference, but the most perplexing thing about The National is why they aren't much bigger than their relatively confining indie status allows them to be. Barack Obama used their brass-fueled opus "Fake Empire" in his 2008 Presidential election campaign, and the amount of adverts on the back of magazines for "High Violet" when it was released in 2010 should have at least alerted the Q-reading community to the increase in their printed appearances. Maybe it's a conscious decision on behalf of the band to rock out on a low profile, and quite right too. All that being said, tonight proves beyond any shadow of a doubt that they're a band for whom a show like this has felt like a long time coming on these shores.
Tonight, support band Wild Beasts (8) sound more robust and confident than ever before. Their whole stage presence gives off a vibe of natural ease, as if shows like this were more their habitat than the more modestly sized venues they usually indulge on tour. Vocally the tag team of Hayden Thorpe and Tom Fleming are on magnificent form; the difference between Thorpe's falsetto and Fleming's deep baritone is now smooth and seamless rather than slightly comical. Their songs sound positively cinematic; the shuddering synth finale of "Daughters" is more thunderous than ever. They close on old crowd favourite "All The King's Men", which sees Fleming completely consumed by the bubble of his momentarily bawdy character. It's performed with the kind of conviction that proves they deserve to be here.
When The National (9) arrive on stage to a satisfyingly rapturous reception, they look as suave and stately as always, oozing a sense of reserved but confident cool. Frontman Mat Berninger is the absolute epitome of this; his stage presence is rather understated but you can feel it perennially all the same. During the glorious instrumental passages of the likes of "Bloodbuzz Ohio" and "Sea of Love" (which soar even higher than on record), he strides back and forth across the stage in an almost schizophrenic manner, clearly lost in the moment.
And he very much deserves to be. From the moment they kick things off with "Don't Swallow The Cap", the ball is set rolling for an evening that is consistently as energetic as it is spiritual. The succession of a life-affirming rendition of "Demons" into a stark but wholesome performance of the moving "Hard To Find" is resounding, Aaron Dessner's twinkling lead-guitar line bringing the track to its close profoundly. An extended intro encourages a whole-hearted clap along from the entire crowd into "Squalor Victoria", which continues on to become one of the night's very finest moments, resulting in Berninger screaming the title in a feral and totally captivating way at the end.
The band's dry on-stage humour is received in deservedly high spirits too, perhaps testament to how much of their dark sense of sarcasm is very much at home in Britain. "This one's dedicated to my brother, it's his birthday today", says Mat before just before the band launch into "Abel". "He's a metal-head and fucking hates all our slow songs, so we'll play a fast one for him", he continues. Then, referencing the touching documentary "Mistaken For Strangers", a film made by Tom Berninger about his brother's band and the strain it sometimes has on their relationship, he says, "Happy 35th Birthday, Tom. You can start moving out of my garage now".
"Shit! Sorry, I forgot you were waiting for me", exclaims Mat with genuine surprise after about a minute of the pensive intro to "Sorrow" has passed. "You're way too happy to be singing this song right now", jokes guitarist Bryce Dessner. "Fuck, have I messed that up?" chuckles Mat. "Yeah, you gotta get into character", responds his friend. It's this kind of accidental and genuine persona of all the band members that adds so much charm to the night's proceedings. It's a resounding signifier of just how at home they feel here.
"Graceless" is the absolute pinnacle of the night. Moving, loud and absolutely pertinent in its own presence, it's the absolute summation of the power of the band's music. Berninger launches himself into the crowd whilst desperately staying out of reach of security and subsequently getting swallowed up by his adoring fans during the final throes of the song, and it's the kind of sight that works on a number of levels to justify not only this booking, but the band's status as a people's rock band. They close on "Fake Empire", which seems maybe too conspicuous, but it makes perfect sense; it's a fan favourite and easily their biggest record to date. It's a natural candidate for the close of a show that has been undoubtedly career-affirming.
The overall sense coming away from The National's show at the O2 tonight is that this is exactly where they're meant to be. The crowd was almost certainly made up of well-affirmed fans, so a widening of the sphere that The National will reach because of this isn't particularly likely. However, for those who were there and consumed in the moment, this was a definitive one; the realisation of a band who truly deserve to be much closer to household name status than they are.