Greetings all!
Every time I write a new piece for this site these days I precede it by doing the whole "I just don't have the time..." spiel. Over the past couple of months that has never been more true, but I'll save you that for now. I'll also save you the "this is just my opinion..." speech. There are those people who take this sort of thing as seriously as the invasion of Iraq, but they're to be ignored. The one thing I will say is that, instead of (as I have done in previous years) toiling for hours and hours a day over which album is TECHNICALLY better and more worthwhile than the other when compiling this list, I've ranked these albums in the most pure order possible; the amount which I've listened to them and the amount of enjoyment I get out of them. There's no science going on here. These are simply the albums that have made me laugh, cry, want to break things and contemplate the meaning of life consistently throughout the year.
No doubt there will be some people reading this who think I've made serious omissions, so here is a list of albums that I've enjoyed immensely whenever I've listened to them, but maybe haven't sat with long enough or have come out too late in the year for them to really be considered for this list. These are ranked in no particular order, as although I think they're all brilliant, I haven't really considered them in a way that would make that process possible. So:
The Bug- Angels & Devils
Leon Vynehall- Music For The Uninvited
Teitanblood- Death
Grouper- Ruins
Full of Hell & Merzbow- Full of Hell & Merzbow
Jon Hopkins- Asleep Versions EP
Gazelle Twin- Unflesh
The Body (& The Haxan Cloak)- I Shall Die Here
Right, lets get into it then. Here are my top 15 albums of 2014. Hopefully there are some records in here you love, and hopefully there are some you may never have checked out before and this list is what urged you to do so. At the end of the day, the most favourable thing about doing this is the idea that I may introduce someone to some music that they otherwise may never have heard and they end up loving it, so fingers crossed! Enjoy.
15. Taylor Swift- 1989
In a year when Ariana Grande fell well short of the talent she'd previously hinted at and Kylie Minogue caught a bout of the Madonna syndrome and slipped uncomfortably into middle-age, Taylor Swift's "1989" was especially important. Not only is it a collection of pure, nigh on addictive and crisply produced songs; the really beautiful thing about "1989" is the fact that it's obvious just how much unadulterated, unashamed fun Swift had making it. Although Swift's expressionism reaches a new level of accessibility, this isn't an album about selling records. In it's heart it just wants to be a fun, catchy and emotional experience, and it mostly manages to achieve those goals. Couple all of that with the fact that the songs are just damn undeniable and you've got the record the pop world has needed for a long time. Life's too short to be hating on music that's genuinely ace.
14. Caribou- Our Love
Four years after Dan Snaith's critically acclaimed opus "Swim", the (expected) cynicism surrounding the quality of a new Caribou full-length was certainly rife amongst some spheres on the indie community. With "Our Love" however, Snaith has produced the most wholesome, beautiful and moving album under the Caribou moniker to date. Smooth at every turn, deliriously funky on the likes of the title track and re-inserting his magnificent sense of euphoria on "Can't Do Without You" as well as the far more mellow and swooning "Dive", it was an album that traversed the line between the slightly more accessible end of rave culture and the more IDM-specific realms explored by the likes of Gold Panda and Clark. Snaith's head for interplay, colour and texture has never sounded better.
13. Run The Jewels- Run The Jewels II
As has already been remarked by some critics, the real power of MCs EL-P and Killer Mike's return as an actual collaborative project is that that's exactly what it sounds like. The intimidating chemistry between them was evident on the first record, but on "II" it sounds absolutely unbreakable. EL-P's wizard-like creativity on the production is nastier, grittier and darker than ever before, and the violent vitriol and anger-charged rhetoric he and Killer Mike spit back and forth at each other is seamless, especially on the likes of "Oh My Darling Don't Cry". Rage Against The Machine's Zack De La Rocha lays down arguably one of his finest verses to date on "Close Your Eyes (And Count To Fuck)", there's the intensely graphic sex humour of "Love Again", and there's even a sense of narrative never really indulged in by Run The Jewels before on "Crown". All in all, "II" is proof that EL-P and Killer Mike are two of the most versatile, witty and able MCs in the game today.
12. Busdriver- Perfect Hair
The recently customised rap collective Hellfyre Club's veteran underground icon Busdriver returned with his 10th LP this year and, from the word go, slammed in hard the argument that he'd lost none of his skill, wit or creativity since 2012's "Beaus$Eros". Beneath all of his somtimes impossible-to-comprehend wordplay and lightning fast flow lay hundreds of layers of social criticism ("Eat Rich"), personal reflection ("Can't You Tell I'm a Sociopath?") and razor sharp humour ("Retirement Ode"). Dig a little deeper than 6ft into his angular literacy and you'd find a middle finger raised to the tabloid-like journalism with which Hip-Hop is often dealt on "Bliss Point", strikingly moving heartbreak on "Motion Lines" and perplexing but captivating guest appearances from his fellow Hellfyre Club stalwart Open Mike Eagle on "When The Tooth-Lined Horizon Blinks". Far from accessible but all the more richly rewarding for it, "Perfect Hair" is the most consistently entertaining Hip-Hop album of 2014.
11. The Twilight Sad- Nobody Wants To Be Here and Nobody Wants To Leave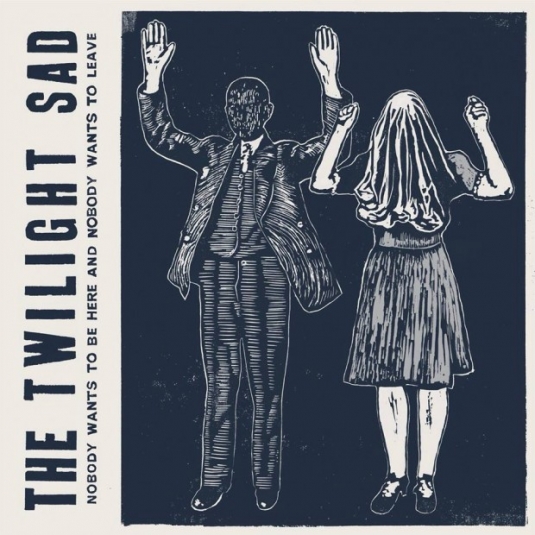 Celebrated Scottish miserabalists The Twilight Sad seem to be in it for the long slog, and when they're churning out albums as wholesome, emotional and stark as their fourth full-length "Nobody Wants To Be Here..." there's no reason why they should be either denied or ignored. After the mixed response of their 2011 indulgence in synth-pop on "No One Can Ever Know", the return of epic chord progressions, shimmering reverb and meaty bass lines was warmly welcomed by the indie community, and long-standing die-hard fans of the band received the album as their absolute finest since their debut, which it most certainly is. Whether it's the bleak space that surrounds every melody on opener "There's a Girl in the Corner", the wintry, rhythmic epicness of "Last January" or the lovelorn, almost gut-wrenching sadness of "Sometimes I Wished I Could Fall Asleep", there's a remorseful power to "Nobody Wants To Know..." that means you'll come out of it feeling like you've just seen the finale of a powerful 1970s-based police drama.
10. Every Time I Die- From Parts Unknown
Although Hardcore veterans Every Time I Die's 7th full-length "From Parts Unknown" has less in common with their more lauded, southern-fried and stomping crossover output ("The Big Dirty", "New Junk Aesthetic"), it's their best work to date. When the band tried to re-connect with their more primal, dislocated and discordant earlier sound on 2012's "Ex Lives" it felt like they'd lost some of that visceral, caveman-esque brutality, but on "From Parts Unknown" that sense is here in abundance more than it ever has been before. Lead-off single "Thirst" was a no holds barred sledgehammer that set the precedent for an album that indulged as much in that rawness as it did in a slightly understated sense of melody, like on the very fine "Decayin' With The Boys". Keith Buckley's instantly recognisable lyricism still has all its charm and intelligence in tact, though perhaps the most earth-shattering moment of his dialect comes on the closer "Idiot"; "All I want is for everyone to go to Hell/ It's the last place I was seen before I lost myself/ All I want is for everyone to come to Hell/ There we can be free and learn to love ourselves". Indeed.
9. FKA Twigs- LP1
One of the most critically acclaimed releases of 2014, former dancer Tahliah Barnett's debut full-length was quite rightly received as the most intriguing, twisted and genuinely sexy r'n'b album for quite some time. The amount of mainstream appreciation the album got was rather remarkable given the outlandishness and oddball skronk of most of the production on the album, but in terms of vision and creativity there were almost no qualms to be had with the shapes and sizes that the tracks on "LP1" came in. Sensual and fleshy but also emotional and diverse subject-matter wise, Barnett confirmed herself to be much more than the body in the background she'd been previously (a subject addressed directly on most recent single "Video Girl"). A beautiful, visionary and mindful step into the realms of a genre that has recently been lapping up all the virtuosity it can get.
8. Manic Street Preachers- Futurology
A sort of accompaniment piece to 2013's "Rewind The Film", the Manics' 12th full-length was rightly received as their most epic and heartfelt piece of work for years. It's astonishing reviews across the board were largely a product of its scope and emotion; both things the band have almost always had in abundance, but "Futurology" felt like all that scope and emotion had finally come full circle and been turned into something truly wholesome. The spirit of Richey Edwards loomed large on "Futurology", adding extra weight and depth to the gorgeous Springsteen-esque fuel of "Walk Me to the Bridge" and the more sombre "Between the Clock and the Bed". The band were as rich as ever in firebrand vitriol too, the groove-laden stomp of "Let's Go To War" perhaps the most Manics-esque moment they've conjured in years, and the more humourous "Next Jet To Leave Moscow", which fires a sharp middle finger at wannabe rock stars. A sufficiently magnificent album that proved that, in reality, the Manics never really went away.
7. Behemoth- The Satanist
Even before "The Satanist" had its official release in January Metal critics across the board were calling it the album of 2014. At that time it certainly seemed like surpassing its titanic scale would be a work of wonder. Soul-crushingly brutal, destructively epic and yet still retaining that sense of artfulness and musicianship that had always marked the Polish legends out as visionaries, Nergal & co.'s 10th album was nothing short of a cascading masterpiece. Written and recorded in the wake of Nergal's recovery from Leukaemia, there was an especially emotional shadow hanging over "The Satanist" which increased its miraculous power tenfold, something emphasised by the moving "In The Absence Ov Light". Just as the thunderous, atmosphere drenched first chords of opener "Blow Your Trumpets, Gabriel" affirmed, the overall feeling of this album was one of absolute triumph, a sense of triumph that only one other album in this list has been able to rival this year.
6. Comeback Kid- Die Knowing
It's hard to put into words just why Canadian Hardcore legends Comeback Kid's return with "Die Knowing" was so special. Maybe it was the un-fuckwithable punk rock spirit that oozed from every pour of the record. Maybe it was the life affirming, fists-in-the-air oblivion that, even if Comeback Kid were lacking in for a couple of records, they still do much better than anyone else. From the slow, dark crawl of the crushing title track to the blood-pumping skate-punk of "Should Know Better" and the urgent but fully-formed melody of "Didn't Even Mind", "Die Knowing" was just a case of punch in the face after punch in the face, in the very most enjoyable, exciting, blood-curdling and skull-shattering way possible. This is absolutely how Comeback Kid should sound.
5. Animals As Leaders- The Joy Of Motion
For years the rock media's coverage of instrumental prog-rock trio Animals As Leaders has mostly been about the scintillating ability of guitarist Tosin Abasi. Whilst that trait is, in some regards, their absolutely most remarkable feature, their 3rd full-length "The Joy Of Motion" proved beyond measure just how much of a BAND they are. All three members put in absolutely blinding shifts on this album to create something that's an absolute whirlwind of beauty and soulfulness, as well as the occasional descent into crushing heaviness. The spacious, stratospheric floatiness of "Air Chrysalis" interracted with and was balanced by the gorgeous grooviness of "Physical Education" and the ten-tonne epicness of the likes of "Tooth and Claw" and "Mind-Spun". Never have Animals As Leaders sounded so fun, vital and just fucking brilliant.
4. Mogwai- Rave Tapes
A bit like Animals As Leaders (and many other bands on this list) albeit of a much longer-standing nature, Glaswegian post-rock legends Mogwai have spent years honing, refining and changing their dynamic, and on their 8th album "Rave Tapes" it felt like they'd found a favourable way to be concise as well as soaring. Synths were more prevalent than ever in their sound this time around, adding a significant level of playfulness as well as depth and deep-seated atmosphere to the songs, something which was lacking on their previously release, 2011's "Hardcore Will Never Die, But You Will". From the airy, sumptuous opener "Heard About You Last Night" to the apocalyptic peaks reached by the guitar-driven hue of "Hexon Bogon" and the near tear-jerking soulfulness of closer "The Lord is Out of Control", "Rave Tapes" felt like a PROPER Mogwai album, something that many people suggest hasn't totally been the case since 2006's "Mr. Beast". In every way they're still a totally imperative band.
3. Wild Beasts- Present Tense
Every time Wild Beasts release a record it's like a new sonic journey into some uncharted but endlessly fascinating world. Although "Present Tense", the band's 4th and synth-heaviest album to date, wasn't received quite as gratuitously as 2011's "Smother", it blew the gates wide open in terms of the band's dynamic. A fast-paced, blood-pumping romp through righteous political and social anger ("Wanderlust", "Daughters") as well as the Kendal quartet's favoured old calling card of sex ("Mecca") and a spectral, philosophical and multi-faceted eye cast at life in the modern age, "Present Tense" was an album for the here and now in the truest sense. Although the sense of thematic identity isn't as strong as it was on previous releases, this is their most colourful, life-affirming album to date.
2. Trap Them- Blissfucker
In terms of sheer nihilism there aren't a great deal of bands who walk in the same ball park as Trap Them. "Blissfucker", as it's title suggests, was the absolute epitome of the idea that there is no light at the end of the tunnel, and that hope for mankind, on a social, cultural and sometimes personal level is an idea invented to blind people from seeing what the reality actually is. Unrelentingly bleak, pummelling, groovy and bone- shattering, "Blissfucker" is a rollercoaster ride through a black-hearted, blood-bubbling nemesis that reserves very little dignity for anything other than the dark message it portrays. In the epic "Savage Climbers" too, Trap Them have written one of their best songs to date.
1. Swans- To Be Kind
When I wrote about the reformed Swans' 2012 masterpiece "The Seer" I said it was an album that was far too big for words. Just like that album, I find writing any kind of summary of "To Be Kind" excruciatingly hard without hitting and going over the 2,000 word mark. It's probably easiest to say that there has never and probably will never be a band as capable of creating the sound of entire universes exploding as well as Michael Gira's experimental veterans. "To Be Kind" seems to have a generally more positive root at its core than anything else Swans have produced. On the 34-minute centrepiece "Bring The Sun/ Toussaint L'ouverture", the glorious chants of "Suuuuuuuuun!" that consume the most thunderous build up you'll ever hear feel more like a celebratory paean to pagan Gods rather than a nihilistic sooth-sayer fortelling the doom of our time (see Trap Them). On majestic opener "Screen Shot" Gira's random, rambling two- word phrases all combine to create a sense of (whisper it) hope and life rather than negativity. One could probably interpret "To Be Kind" in some sort of Freudian reading, but more accurately, this is the sound of Gods judging men. This is the sound of the sun exploding, purely because it wants to. This is the sound of Yellowstone Park laughing as it lays Wyoming to waste. If you're of the persuasion that something that is catchy is by definition good, then "To Be Kind" is not exactly going to be pleasurable, but if you're a There Will Be Blood, heads-getting-smacked-against-walls and gazing across worlds kind of person, then there's not really any excuse to not indulge in this wonderful piece of art.
The Riviera's Top 15 Albums of 2014
15. Taylor Swift- 1989
14. Caribou- Our Love
13. Run The Jewels- II
12. Busdriver- Perfect Hair
11. The Twilight Sad- Nobody Wants To Be Here & Nobody Wants To Leave
10. Every Time I Die- From Parts Unknown
9. FKA Twigs- LP1
8. Manic Street Preachers- Futurology
7. Behemoth- The Satanist
6. Comeback Kid- Die Knowing
5. Animals As Leaders- The Joy Of Motion
4. Mogwai- Rave Tapes
3. Wild Beasts- Present Tense
2. Trap Them- Blissfucker
1. Swans- To Be Kind
There you have it, then! Is there anything I missed? Anything that should be in there that isn't? Anything that is in there that shouldn't be? Please let me know if you're so inclined, and let me know of your favourite records of the year too.
I'll be publishing a Top tracks of the year list tomorrow, as well as a couple of other pieces that I've got in the works and hope to get published within the next couple of weeks. Until then, thanks for reading and a very Merry Christmas to you all!
Jack